Pan Africa Skills is the Training Partner in Kenya of ValueSelling Associates Inc. a Top 20 Sales Training Companies globally.
About ValueSelling Associates
ValueSelling Associates (www.valueselling.com) is the creator of the ValueSelling Framework®, a sales methodology that works with your existing method or independently. Since 1991, we've helped thousands of sales professionals increase their sales productivity. We offer customized training to FORTUNE 1000, mid-sized and start-up companies. Our proprietary sales training tools and consulting services deliver measurable results. Clients turn to the experts at ValueSelling Associates for classroom and online training and consulting services that yield immediate impact, repeatable strategies, and sustainable results. ValueSelling is in the business of helping sales teams optimize how they engage, qualify, advance and close opportunities with their prospects and clients.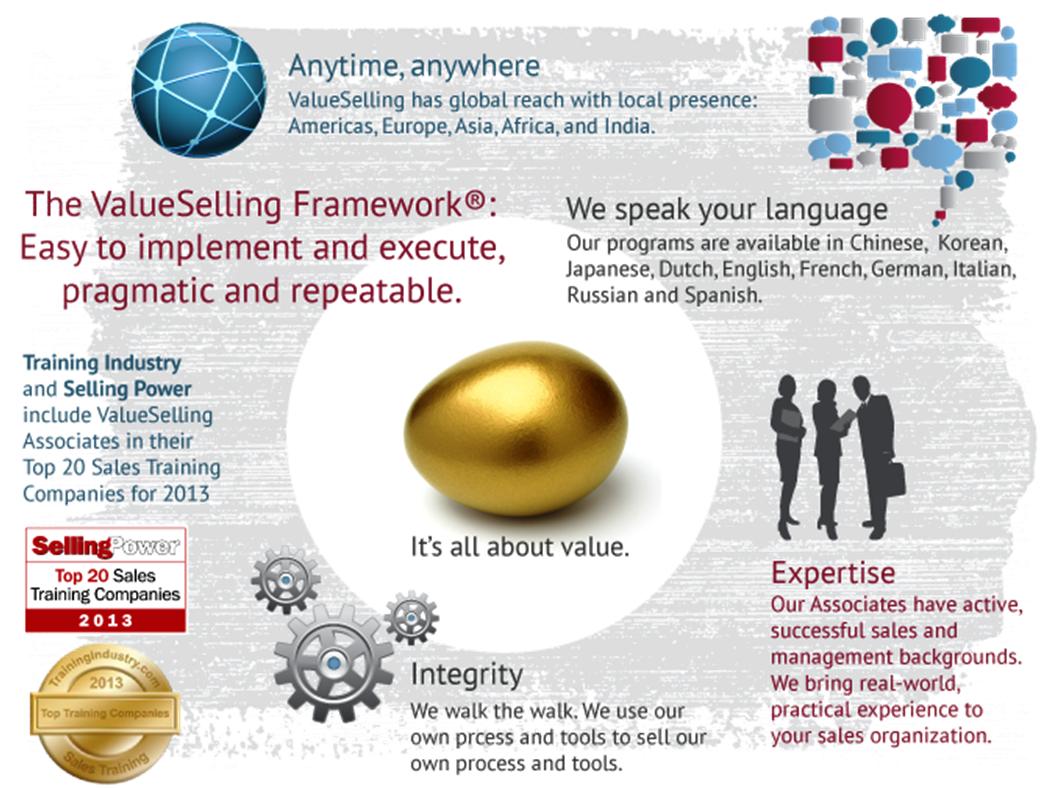 The ValueSelling Sales Methodology is based on the following Fundamental Principles:-
a. People buy from people
ValueSelling is built on a foundation that is true for every sales opportunity: people buy from people. It is a commonly accepted notion that buyers often don't trust salespeople. It is your job to overcome that initial barrier by recognizing that a successful sales relationship hinges on your personal relationship with the customer.
b. People need a reason to change
Voluntary actions, such as making a purchase decisions, mean making a change. People will change only when they are sufficiently motivated to do so. Abraham Maslow said that human beings are motivated by unsatisfied needs. Once a need is satisfied, it is no longer a motivator. Customers can be motivated by needs, but often require help identifying those needs. ValueSelling focuses on uncovering customer challenges.
c. The product is in the mind of the buyer
You create a need for your product or service by linking its capabilities to the problems or challenges that prevent the buyer from resolving his business or personal issues. This connection must take place in the mind of the buyer.
d. People make emotional buying decisions for logical reasons
People will buy something only if they believe it has value for them. This value can come in one of two forms: business value, where your product must provide value to the buyer's business, such as ROI or cost justification, or personal value, where you cannot make a sale unless you satisfy a buyer's personal reason to change, also known as "what's in it for me" factor (WIIFM)
e. The correct use of power is key
The most effective salespeople establish and maintain rapport at the power level. The person at the power level has the authority to spend the money. To make the sale, it is crucial that your product's capabilities create a VisionMatch™ for the power person. Unfortunately, if you don't take the action to create a VisionMatch™ at the power level, someone else might and that introduces unnecessary risk into your opportunity.
f. You can't sell to someone who can't buy
If you execute a plan with someone who can't buy, you're expending resources without developing a qualified prospect. As you learn more about ValueSelling, you'll see how the process leads your prospect towards becoming a qualified prospect.
ValueSelling Framework®
The ValueSelling Framework® is founded on a practical, sustainable methodology that uncovers a prospect's critical business issues and enables the salesperson to link the unique value of their solution to those issues. Through personalized classroom instruction, we arm sales executives with strategies to access and dialogue with executive decision-makers, diagnose stalled decisions, increase forecast accuracy, eliminate discounting and increase deal size.
ValueSelling is a simple approach to connect to the criteria by which customers will ultimately make their decisions. By executing the steps of the ValueSelling methodology, sales executives have furthered their careers and reached higher achievement than ever before.
The strength in ValueSelling is that it's a sales process that can be duplicated in every complex selling situation: Business-to-business or business-to-consumer.
The ValueSelling Framework® is more than a training program. It is a change management initiative that spans the entire enterprise. Our system stretches from sales to sales enablement, sales operations, marketing and customer service. This comprehensive system creates a satisfying and mutually rewarding sales experience for you and your client, from start to finish.
ValueSelling Provides the Formula to Help Sales Professionals:-
Eliminate the "No Decision" Sales Cycle
Improve Win and Close Rates
Reduce Discounting
Focus on the Customer's Business Issues
Use a Repeatable Road Map
Leverage the Customer's Buying Process
Here's how the process works
You will learn how to quickly diagnose stalled sales, increase forecasting accuracy, expand each opportunity and reduce discounting. And although the concepts may seem complex at first, the reason ValueSelling works is because it is a very simple executable and powerful sales process: Based on easy-to learn, repeatable steps, we provide sales professionals with the tools they need to save time, effort and resources in all selling situations, while minimizing the risk of losing the sale or wasting time on those prospects who will never buy.
When we bring the ValueSelling Framework® into an organization, we typically start with our on-demand course, eValueSelling Framework® Fundamentals. Then, the sales staff experiences a lively instructor-led workshop built around relevant case studies build just for you. After the workshop, we recommend our ValueSelling@Work video reinforcement program that delivers a short video each week for 14 weeks on critical Framework concepts.
The classroom experience is critical to the development of new skills and behaviors. Our design includes multiple exercises and practice opportunities. We are participant-centered and are completely focused on the student's experience and real-world sales challenges.
Our programs are activity-based, not lectures. Each of our facilitators is a former sales leader who can illustrate our concepts and principles with credible real world stories and expertise.
The instructor-led workshop will focus on application of the ValueSelling skills through a simulated sales situation.
The objectives of the workshop include:
Reinforce the eValueSelling Framework® Fundamentals on-demand course
Develop skills in matching your solutions to your customer's critical business issues and business objectives
Create demand and need for your products and services
Learn how to achieve full value for your products and services
Develop skills to motivate prospects to act sooner
Develop the foundation for a repeatable consistent sales process within your sales organization
Expected Outcomes of the Program
The participants will learn and be able to structure calls consistently, whatever the level of prospect.
Learn to link products and services to the business issues of the prospect.
Craft a solution to which the prospect has an emotional attachment and be able to differentiate from the competition in a credible way.
How to ask effective questions: to make visible what is normally invisible.
The ability to handle objections by understanding the emotional source of the statement and to close in a natural way.
The importance and skill needed to uncover power and the strategies needed to gain access to the key buying influences.
The necessity of developing a mutual defined opportunity plan.
Target Group(s)
The training program is suitable for all those involved in sales activities across all industries – Sales Executives, Sales Managers, Business Development Executives/Managers, Branch Managers, Unit Managers etc.
Contact us today for more information on this game changing sales training program!
Partial list of clients